Other events

Map Exhibition

Exhibition of geological maps will be organised by the Croatian Geological Survey.

Meeting of the ICA Commission on Map Projections
Prof. Dr. Miljenko Lapaine is the head of the Commission on Map Projections of the ICA. The meeting of that Commission is planned on Saturday 11, 2014 and will be opened for everybody interested in map projections.
Trail Orienteering Competition
For the first time there will be an orienteering competition (TrailO) organized during the Conference on Cartography and Geoinformation. Participants will be given a specially prepared orienteering map and compass, which they will use to find control points. The winners will be awarded with specially designed diplomas.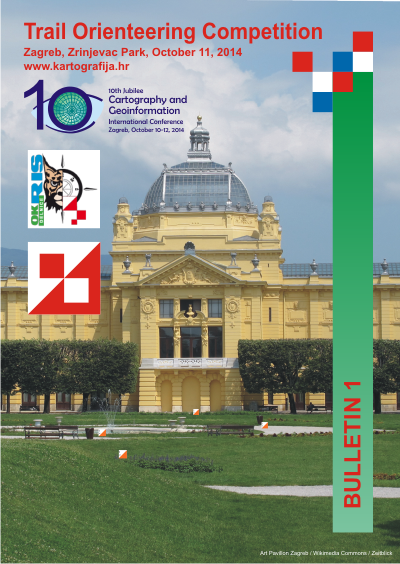 Post-conference Tour
One day walking tour to the Medvednica Nature Park is scheduled on Sunday, October 12, 2014. We will visit several geological sites, be acquainted with natural beauty of Medvednica and have a lunch in a mountain house.
City of Zagreb Guided Tour
On Saturday, 11 October 2014, at 10:00 (Starting point at Laguna hotel, optional)
Awards Ceremony for the Best Children's Drawings
On Saturday, 11 October 2014, at 10:00 (The Miroslav Krleža Institute of Lexicography, Great Hall, Prilaz Gj. Deželića 2, Zagreb)
Galla Diner
Brewery, B. Adžije 16, on Saturday, 11 October, 2014 at 19:30