Accompanying Events

Map Exhibitions
The exhibition "Cartography of Buzet" is going to be set at the Buzet Homeland Museum. It is going to feature several maps of Istria and a number of maps representing Buzet and its surroundings.
The second exhibition is going to be held at the National Home in Buzet and feature the best children's works on the theme "My place in today's world".
Orienteering Competition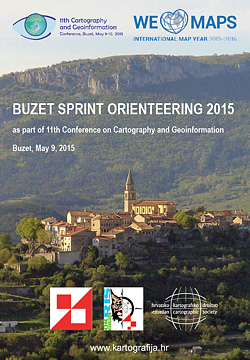 For the first time there will be an sprint orienteering competition organized during the Conference on Cartography and Geoinformation. Participants will be given a specially prepared orienteering map and compass, which they will use to find control points. The winners will be awarded medals and specially designed diplomas.
For competitors a chellenging route is prepared through streets of old city of Buzet. For those who do not want to compete, a special touristic orienteering route is prepared in the old city of Buzet which ensure enjoyment in heritage, atmosphere and charm of this beautiful city.
Participation is free for all. Registration is neccessary in order for organizers to prepare enough maps.
Trip to Spring and Facilities in Sveti Ivan
Participants are going to have a unique opportunity to see the spring and facilities of Istarski vodovoda d.o.o.
Guided Tour
A guided tour of central Istria (Pazin, Motovun, Roč) including a lunch is planned for Sunday, May 10, 2005.